Before you enter we need to check you are of legal drinking age
Are you of legal drinking age ?
Our vineyard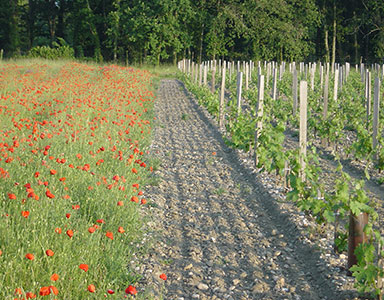 Mille Roses's terroir
Our ambition is to reveal what the 'terroir' provides ; this is a way to carve an authentic style into our wines. Our vineyard management and the daily decisions we make to create our wines must not smother what our Medoc soil naturally gives us. This is the main difference with certain vineyards where all too frequently human action tends to standardize the wine.
The ground is made up of sandy-soil and different-sized stones. It comes from the end of the quaternary era when large glaciers melted and left gravelly soil in very gentle inclines.
This ground filters enough water for the vines to thrive and for the grapes to mature. Furthermore, the large quantity of white surface-stones reflect light all day and restore heat throughout the night. We believe that a rich and well-balanced wine with a personal identity comes first and foremost from its "terroir".
Our treasure : a well-balanced soil giving our wines, strength, richness of flavour and a smooth touch of tannins…
The grape varieties
We grow mainly Cabernet Sauvignon" (giving structure and acidity) and Merlot (giving fruit and roundness). We also have a modest plot of Petit Verdot (giving colour and acidity) a grape variety used almost exclusively in the Medoc. We have developped our own unique Petit Verdot through a careful selection from a century-old plot of vines.
We have also matched and harmonized our choice of grape varieties to our different types of soil as precisely as possible. Since 2009 we have tried to increase our Cabernet Sauvignon proportion which is particularly well-adapted to our terroir and always provides a perfect grape.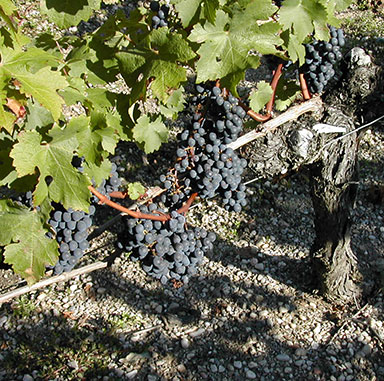 Predominantly Cabernet Sauvignon, a demanding grape variety but particularly well-adapted to the Medoc area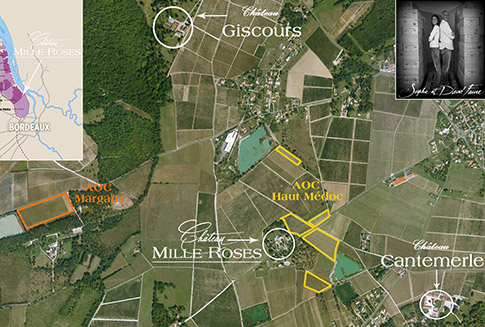 Our plots of vines
Our Haut-Medoc vineyard is composed of 4 plots of vines located around the Chateau, in Macau-en-Medoc. As you can see on the map, the vineyard lies just between 2 other very famous chateaux : Giscours and Cantemerle.
• Merlot : 2.7 ha ( 6.7 acres)
• Cabernet Sauvignon : 2.2 ha ( 5.4 acres)
• Petit Verdot : 0.6 ha (1.5 acres)
Our Margaux vineyard is just a single plot close to Chateau Giscours, Chateau d'Angludet and Chateau Monbrison in the southern part of the Margaux appellation.
• Cabernet Sauvignon : 2.2 ha ( 5.4 acres)
• Merlot : 1.8 ha ( 4.4 acres)
Chateau Mille Roses neighbouring two famous crus classés…